Are you seeing everyone popping up on live streams, taking advantage of the fact that so many people are stuck safe at home, and you want to capture this opportunity as well, but aren't sure how.. or where to start?
I got you!
What is it?
StreamYard 101 is a one day, hands-on online workshop, with Q&A, a full 30 day live streaming schedule and a community to support you as you take your first steps into consistent live streaming. The workshop will simplify the tech and show you how to build your brand and audience with real time engagement.
Who is it for?
StreamYard 101 is for people who have a message to share with the world and have been held back by either their fear of technology, fear of camera or fear of starting out without an existing audience.
Where does it happen?
StreamYard 101 is online and consists of real time interaction between your guide – Yifat Cohen, you and your community. It consists of live training (on zoom), live Q&A, and a Telegram community to support you for the entire 30 days.
How does it work?
You join Yifat and your peers on May 4th at 11am EST on a zoom call and together you will be setting up your StreamYard profile, learn how to brand yourself, interact with others in real time, play with lights, colors and backgrounds and practice what you've learned with your community. You will be given a full 30 day live streaming topics, ask questions live or in the Telegram group, get accountability, follow the process and get results.
When does it start?
The live workshop takes place on May 4th at 11am EST sharp. You will have access to the recording, the tools and the community once it's over.
Why does it exist?
I'm creating this training because so many people understand the power of video, specifically live video, in building their brand and their business, but are either doing it wrong and not getting any traction, or are too afraid to even start. They're looking for a proven approach and a hand to hold them through the first steps.
Here's how it works
To master live streaming and to use it as a brand building tool, content is not enough, you need an immersive environment.
StreamYard 101 provides a proven process, practical strategies, community and expert mentorship.
Proven process
There's a secret behind those "big name" online business insiders
and how they are hitting the monthly income milestones,
without gambling on ad spend, without tech headaches,
and no feast or famine inside their businesses.
It's time for you to be let in on their little secret.
Practical strategies
I'm turning the guessswork of live streaming into an art.  I've been live streaming for the past 10 years now (way before live streaming was "a thing") and I can save you not only from making mistakes that hurt your positioning and make you look amateur, but I also know that very few of us can get started alone.
A Community
It's hard to change your life alone. Especially when you're just starting out on a completely new journey. Will anyone watch you live? Will you be talking to the void when you get started? Nope. Your community will be there to support you as you support them (and no, it's not another Facebook group!)
Expert mentorship
No matter how good the training is, you'll always have questions. This hands-on workshop will ensure you are getting everything done in real time. Add to that Q&A session and community support so you're always supported.
How come everyone is live streaming all of a sudden?
For the simple reason that
when you do it right

– IT WORKS.

But there's a secret to using live streams to grow your brand, your audience and your income and that secret lies in in real time engagement.

Not just talking AT people (everyone can do that… and they do *sigh), but talking WITH people.

Across all social channels.

In real time.

Because to build your brand and your audience you need more than content. You need CONNECTION.

And this workshop will show you how to develop that connection so people take action, get results and come back to sing your praises.
By Far, The easiest way to create professional live streams
By the end of this workshop, you'll know EXACTLY how to…
Reach your audience on multiple platforms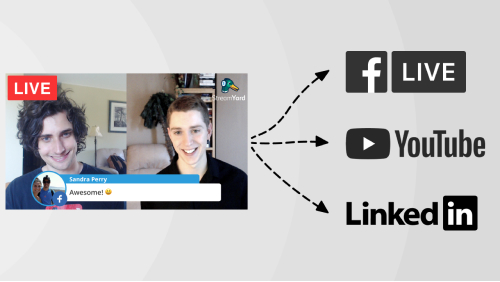 Look like the Pro's. Even if you're just starting out
Feature comments inside your stream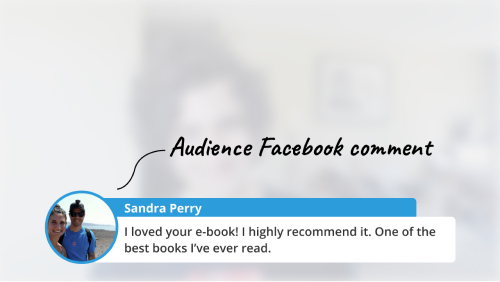 Know how to make money with your stream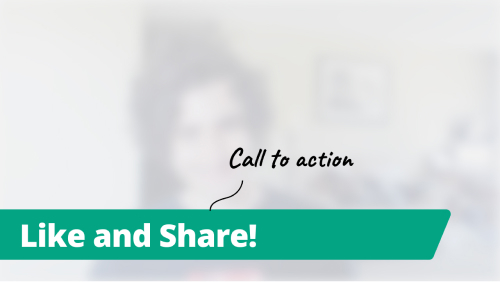 Brand yourself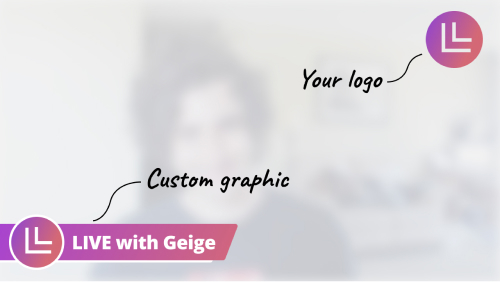 How to use StreamYard to look GOOD!
live streaming is for you, even if…
The answers to your FAQ's
you don't feel comfortable on camera
If you're afraid of being on camera.. if you don't feel comfortable looking at yourself. I get you.
Listen, I was there and my clients were there too. And so I know the feeling and I know how to help you get out of it.
You've listened to Nathan talk about how I helped him overcome his fear of camera… so let me share with you another one of my clients and the results she got once I helped her overcome her own fear of being on camera:
There's one SECRET that I've learned through the years that helps even the most shy person shine on camera, and I'm going to share it with you in the workshop.
you're not a techy person
While there's definitely some tech involved, I have simplified this training to be the easiest you'll ever go through.
You'll watch me walk you through the specific settings on the screen and you'll model what I do on your own screen. It doesn't get any simpler than that.
In fact, I've got this down to such simple steps that even a blind mind was able to do it:
If I could teach a blind man to use Google Hangouts, you can be assured I can teach you too 🙂
you don't have the time
I often say that a course is what stands between you and the results you're looking for, which is why this training is going to be short and sweet. Just what you need to get up and running without all the theory and the fuss around it. Quick, simple and to the point.
you don't know what equipment to use
That's why I'm here. Once we're done you'll know exactly what you need and how to set it up so you look your best on camera, and know how to run interesting live shows.
you don't have a green screen
You don't need any! You can have it if you want, but it's not a must (even if Skype thinks it's Zoom's best feature and hurries to steal the idea). You can look your best with what you already have. I'll show you how.
you don't know what to say
Coming up with topics to talk about daily can be a huge source of stress and anxiety. That's why I'll give you 30 days of topics to talk about to build momentum and get you in the flow of things.
you don't have a big audience
This is one of the scariest parts when starting to go live. What if no one shows up?? What if they don't care about me? What if I talk to the void..?
I got you there homey. Our community is here to support you and show up for you, as you support and show up for them.
It's a lot more fun when we do this together!
Wanna hear the good word?
Yifat is a superb trainer and coach. Her greatest strength is teaching and demonstrating the power of truly connecting and engaging with her audience. I recently took her course LIVE Beyond FACEBOOK using XSplit broadcaster, which added a whole new level of advanced techniques to my broadcasting skill set.
Don't miss a chance to work with Yifat….she is "simply the best…better than all the rest"
Yifat possess a rare quality of being able to cut through the clutter and grasp the essence of a problem. She understands business and business people. Her command of the internet is vast and comprehensive. Any business person would be wise to have her in their corner. She will deliver ROI of at least 10 to 1. I have witnessed this first hand.
We made $250,000 from a dead list of 7000 who has been hit with our offer for over 3 years and never bought.
We converted at 40%, but the extra benefit to me is using the system over and over again…connecting with my audience live and adding value to them.
I was afraid of the tech but I knew that I can rely and trust Yifat and she did not disappoint. Working with Yifat has been the most amazing experience.
YCN is amazing! Our company had never engaged with its customer base and we honestly had no idea how to do it. The folks at YCN took this into account, led us through developing a comprehensive social engagement plan, and helped us through implementation to completion. The results were absolutely amazing! A new untapped source of revenue we didn't even know existed!
I'm blown away! I always had visions that someday I will be able to connect with my audience in the most intimate environment (our homes) has been revolutionary.  It has taken the marketing, the production and a way to connect with my audience to an entirely new level.
Yifat is a genius at creating engagement that converts into clients. She is smart, caring and a genuine pleasure to work with.
This is absolutely genius because people buy from people they know, like and trust and this system gets your audience to know, like and trust you in a way they haven't before.
She has this gamification aspect to her system that gets everyone sharing your event and guess what… that's free advertising!
The financial result was great…and the enjoyment factor of jumping on…I really miss it now..after it was over I felt like – where did that piece of my life go…?
"Oh that Yifat… she is the expert on how to grow and engage your audience in a profitable way – whether that profit is time or money… no matter how you measure it, she is the expert on making it happen."
Yifat is the type of person that injects people with passion and gets them out of their comfort zone so that they can make a splash in their business and impact millions of lives.
Yifat is outstanding! She breaks things down to a level that is simple and easy to follow! Within One Half Hour, I logged out feeling Confident that My Next Campaign was going to be Scaled with even Greater Success! Thanks be to you Yifat! Gambate!
Working with Yifat has been excellent for my organization. On our first call, she didn't waste time with excess chit chat, and instead jumped right into the depth of my brand and where we were seeing the most struggle. I appreciate that she was friendly, yet to the point, giving me tangible strategies to then take back and immediately implement into my company.
One thing that truly stood out to me and left a lasting impression was that she was willing to get out of her seat and envision herself in mine. Yifat logged into my member's site directly and gave me instant feedback in a positive, yet constructive manner. I am confident in how to move my company forward as an influencer after my experiences with her. If you have not had your time with her, and you're truly looking for someone to be real with you, I highly recommend reaching out to Yifat.
See my almost 6,000 followers on my G+ profile? That's due to Yifat's advice. She's taught me really cool stuff I wouldn't have used otherwise. Due to Yifat, I've met important business contacts here, including clients and affiliates. She is invaluable for marketing your business. A sharp cookie indeed.